A small kitchen can be cosy and super-functional. To make a small kitchen feel roomier, you have to use every inch mindfully. A small room should not bewilder you or force you to give up on an important piece of furniture.
It is important, however, to correctly plan out everything, to achieve the best results.
Contents:
1. How to increase space in Small Kitchen
2. Small Kitchen Layouts
3. Perfect Style of a Small Kitchen
Small Kitchen Ideas – 13 Tips on how to increase space in a small kitchen
1. White color in a small kitchen
White is a great solution for a small kitchen. It reflects light, amplifies the sense of internal space and visually separates the walls.
To make the interior of a small kitchen more inviting, use different shades of white and combine different textures.

Don't fret that the white surfaces will demand endless cleaning. In practice, white walls require no more maintenance than other colours, including dark ones.
2. Bright colors in a small kitchen
Use no more than 2-3 different colours in a small kitchen, so as not to oversaturate the interior.
Bright and dark accents are quite acceptable for interior design, but in small amounts and in combination with a neutral background.
3. Redevelopment of a small kitchen
Combining a small kitchen with a living room will help create a feeling of a more open, bright and modern space.

Also, the kitchen space can be increased by building a balcony or loggia/patio.

In some cases, the kitchen can be combined with the hallway or relocated completely.
You can zone areas of the kitchen by using different materials for the floor, walls and/or ceiling finishes. You can also use furniture or partitions to separate areas in the interior.
4. Uniform lighting in a small kitchen
To make a small kitchen feel cosy and spacious, you need to establish the right lighting. It should be uniform, pleasant to the eye, without sharp shadows that would make the space narrower. One of the more familiar arrangements: a chandelier located in the center, with additional furniture lighting is not recommended in a confined space. But spotlights, installed along the perimeter of the ceiling or wall sconces, installed evenly on the walls, will create the desired soft lighting effect.
5. Mirror wall coverings in a small kitchen
Mirrors in a small kitchen can "double" the interior space. If you hang a mirror in front of the window, the amount of light in the room will also double.
6. Optical illusion wall coverings in a small kitchen
Ideally, the walls of a small kitchen should be monochromatic, but some prints and patterns can visually enlarge the space.
7. Window sill reconstruction in a small kitchen
Make it a part of the kitchen suite or better yet turn it into a bar counter.
8. Getting rid of the door in a small kitchen
A swinging door will take up a lot of space and clutter up a small kitchen, so it would be in your best interest to abandon it. Instead, you can install sliding doors, leave a doorway open or just have an arch surrounded by decorative architrave.
9. Kitchen suite with additional storage
If there is not enough space to store things, you can always expand vertically. A kitchen suite with an additional tier up to the ceiling will provide you with all the additional storage you need.
10. Original storage ideas for a small kitchen
To achieve multifunctionality, you need to carefully lay out the storage inside the cabinets. The ideal kitchen is planned in such a way that after meal preparation all the dishes can be placed in the cupboards. Everything should not only be stored in designated storage units, but should also be easily accessible.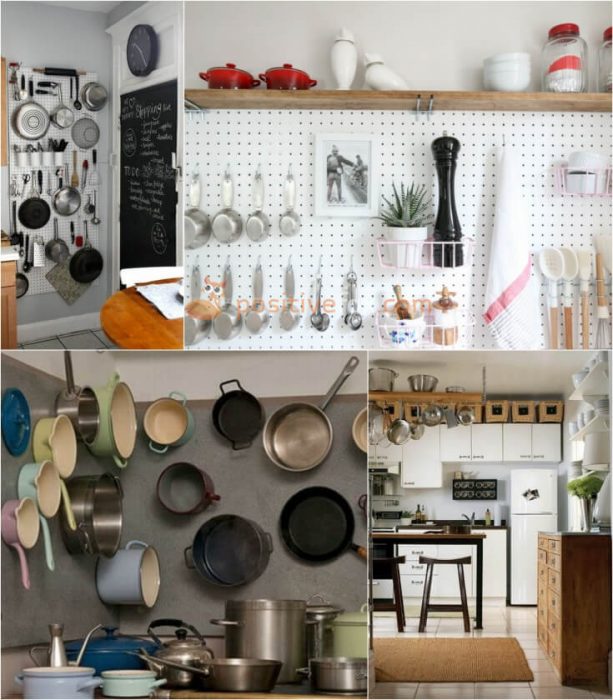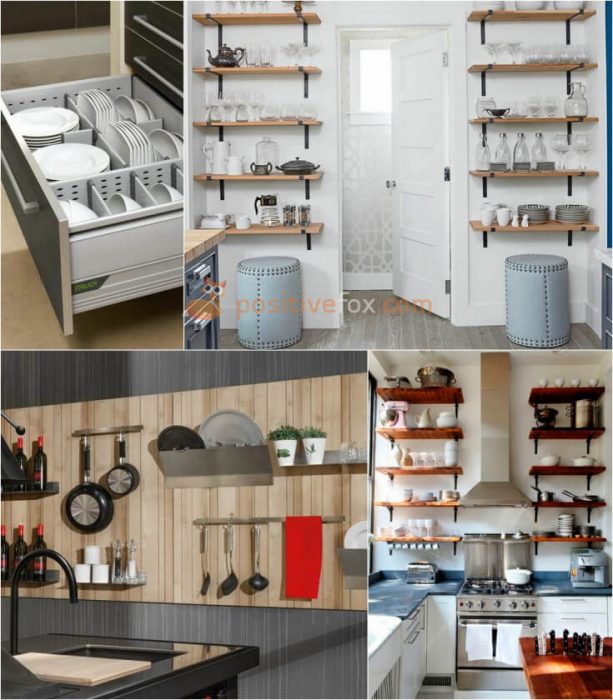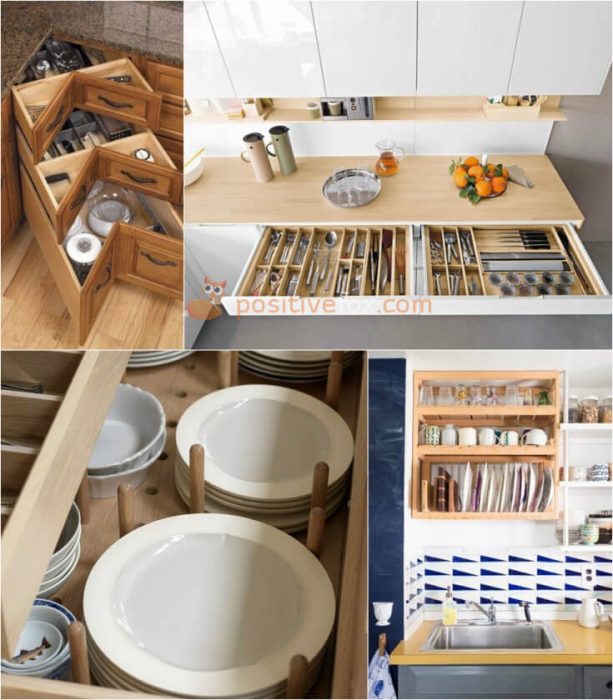 Mobile mini-tables are incredibly convenient as additional work areas.
11. Using built-in kitchen appliances of a reduced size
You can save a lot of kitchen space by choosing the right appliances. Firstly, they must be built-in and not stand-alone, in order to allocate the additional space for other equally important things. Secondly, the appliances should be small if possible. Thirdly, it is important to pick out multifunctional devices, for example, a multi cooker or a microwave oven.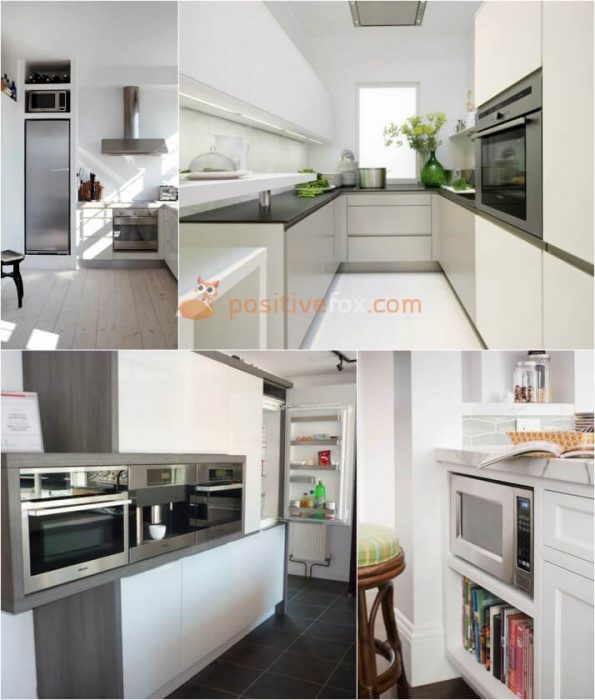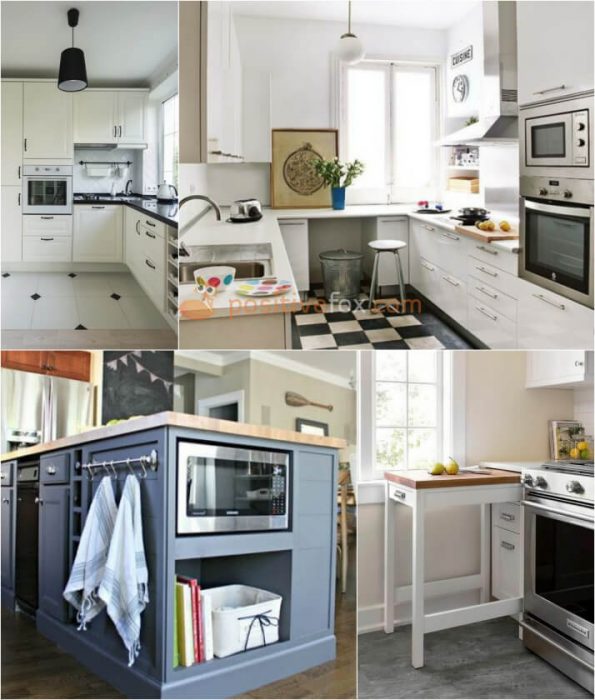 12. Compact, multi-functional furniture for a small kitchen
You should always opt for a multifunctional furniture for a small kitchen space.
Do you dream of a kitchen island, but there simply isn't enough space? You can combine the island with a dining table and mobile stools that can be hidden under the countertop during meal prep, and presto! You've got yourself a functional workspace.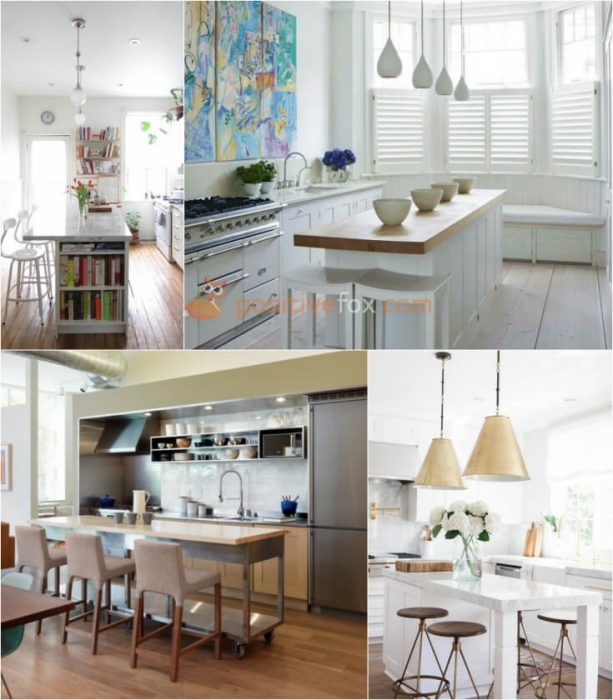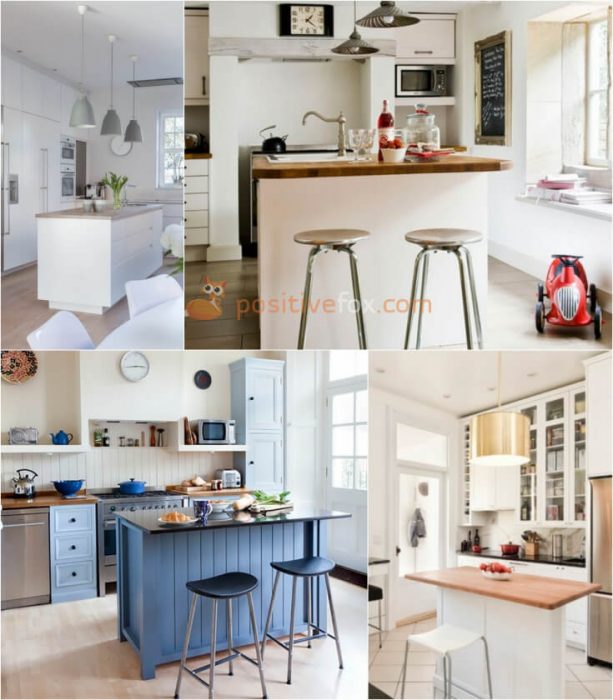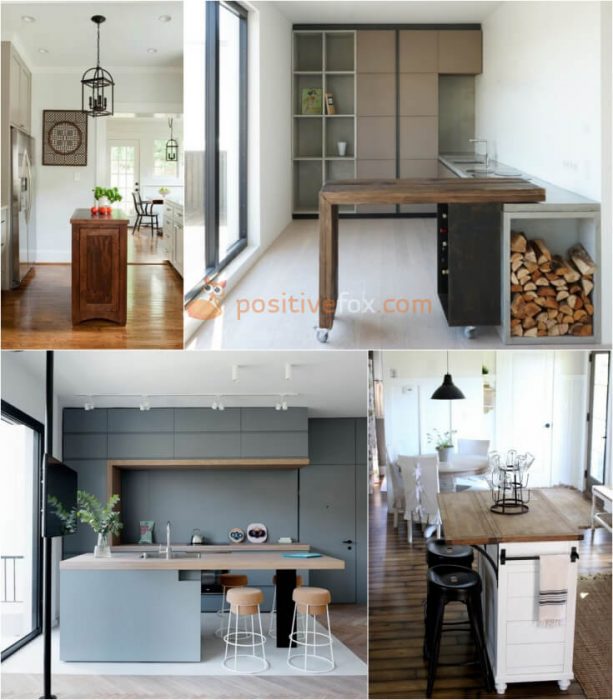 13. Less clutter, the better
For example, kitchen magnets that you brought back from your travels should be removed from the refrigerator. However, it's important that you don't deprive yourself of the joy of decorating the room with other ornaments like live plants, paintings, posters and vintage wall clocks.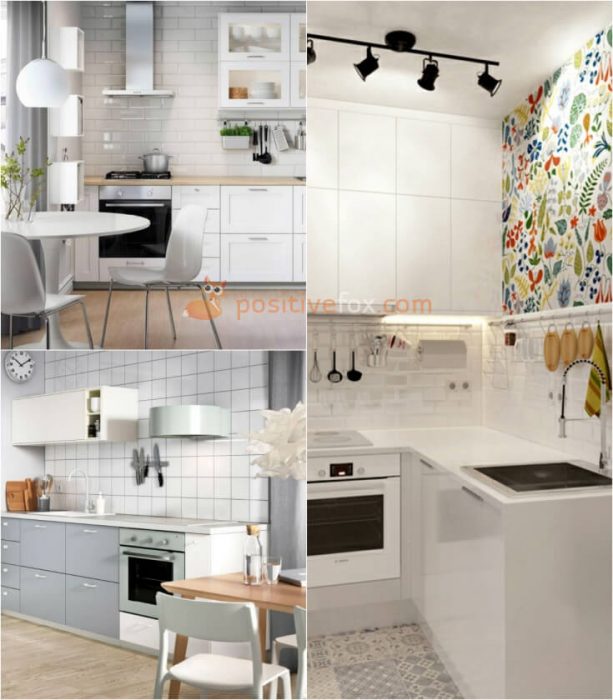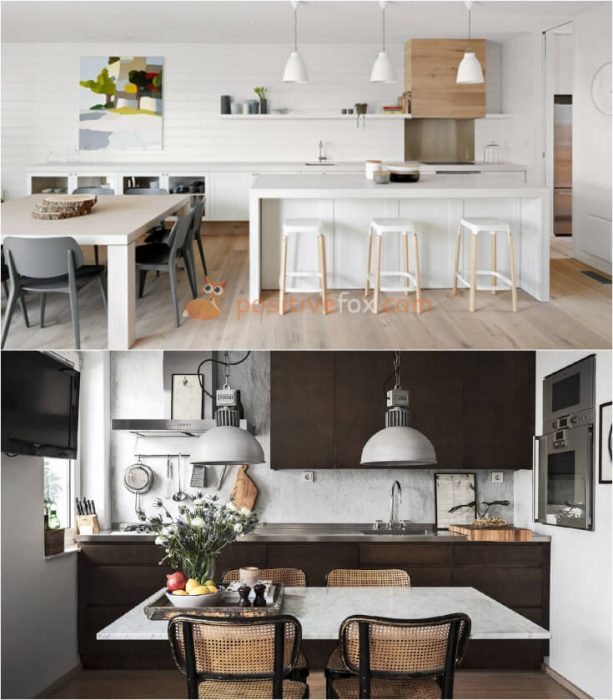 Small Kitchen Ideas – Kitchen layouts
Small L-shaped kitchen
In most cases, an L-shaped layout in a small kitchen is optimal as it allows you to use two adjacent walls and the angle between them to situate the stove, sink and refrigerator like a "work triangle". This will also leave enough space for the dining area.
Small square-shaped kitchen
For square shaped kitchens, corner suites will fit just fine. They will conveniently separate the working and dining areas. With this solution, the refrigerator, sink and stove can be arranged in such a way that they form a work triangle. That way, everything you need is within reach.
Small rectangular kitchen
The furniture should be situated along the walls in a rectangular kitchen. A bar table would be more favourable than a dinner table.
Linear layout of a small kitchen
This layout should be reserved for a very confined kitchen. If the kitchen is narrow, then a two-row layout would be best. It is important to keep enough clear space between the furniture (no less than 100 cm).

The Perfect Style of a Small Kitchen
To create a small kitchen in a particular style, it is important to understand: the simpler the style, the more harmonious it will look in a compact area. High tech, Scandinavian and traditional styles are best suited for for a small kitchen.
High Tech Small Kitchen Interior Design
The main criteria for choosing furniture for a small high tech kitchen are minimal design, multi-functionality and elegance. High tech interior design can help visually expand a room, by virtue of bold, solid colors and the lack of any unused furniture.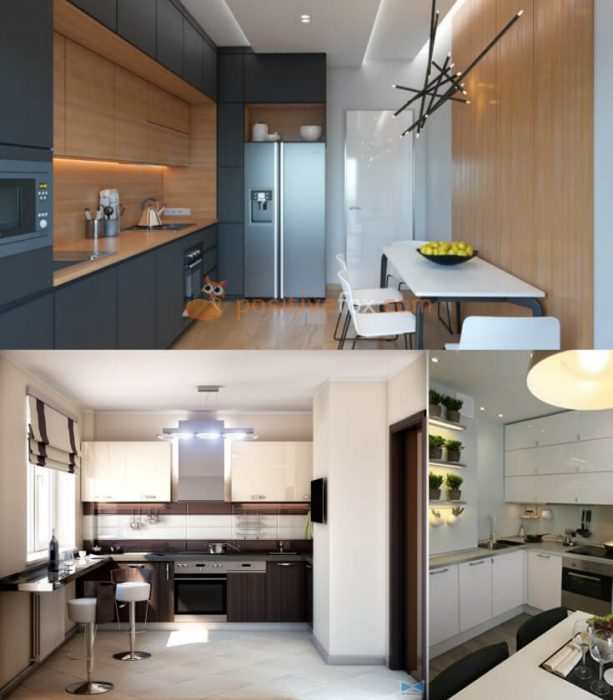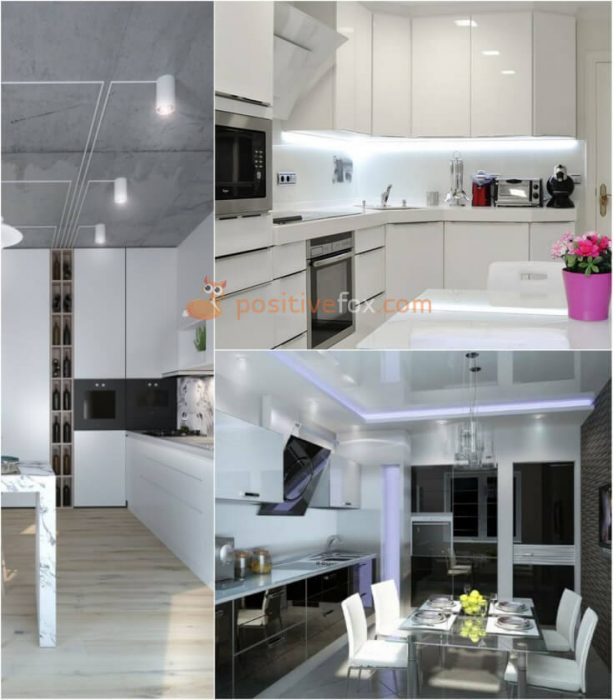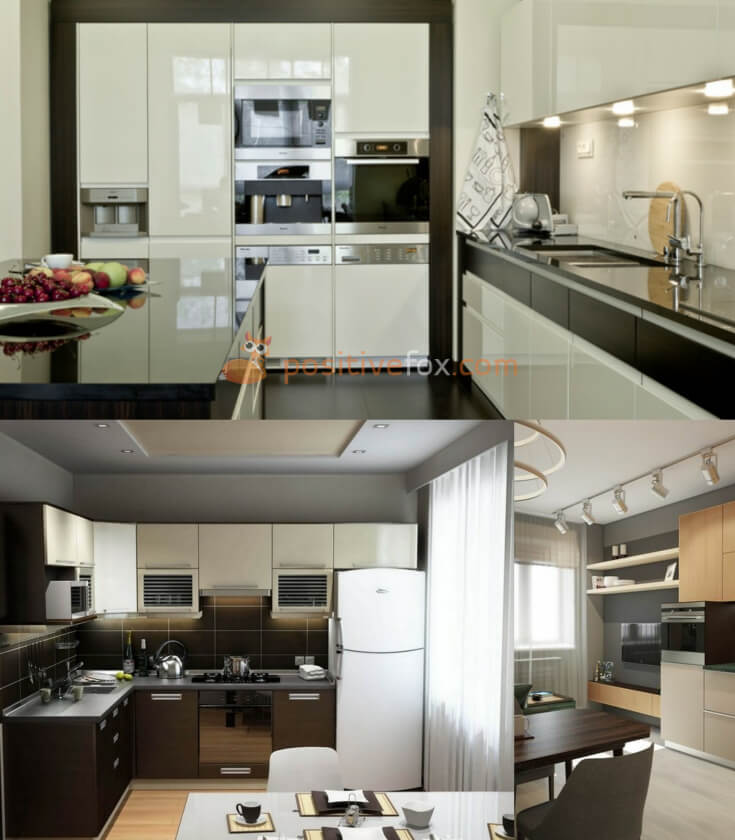 Small Spaces Scandinavian Kitchen
Scandinavian Design is a perfect choice for a small kitchen. White reflects all colors of the spectrum so it makes spaces appear larger. It creates an airy appearance which is clean and calming and that is why it is used often used in Nordic Design.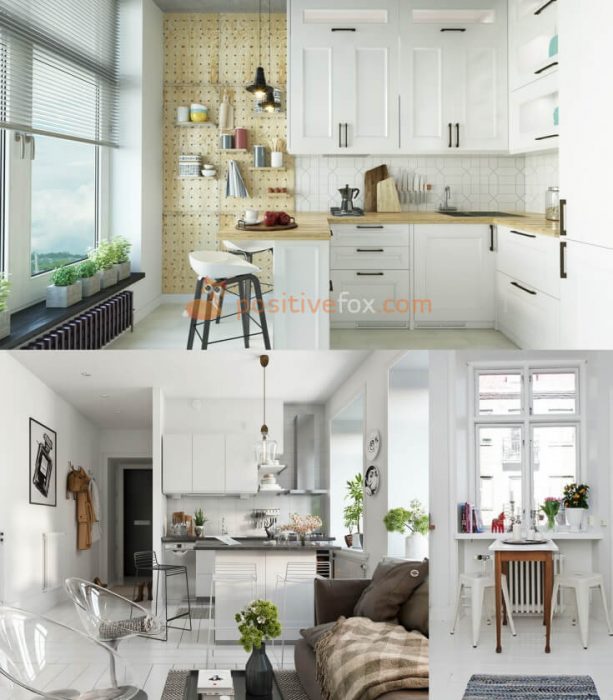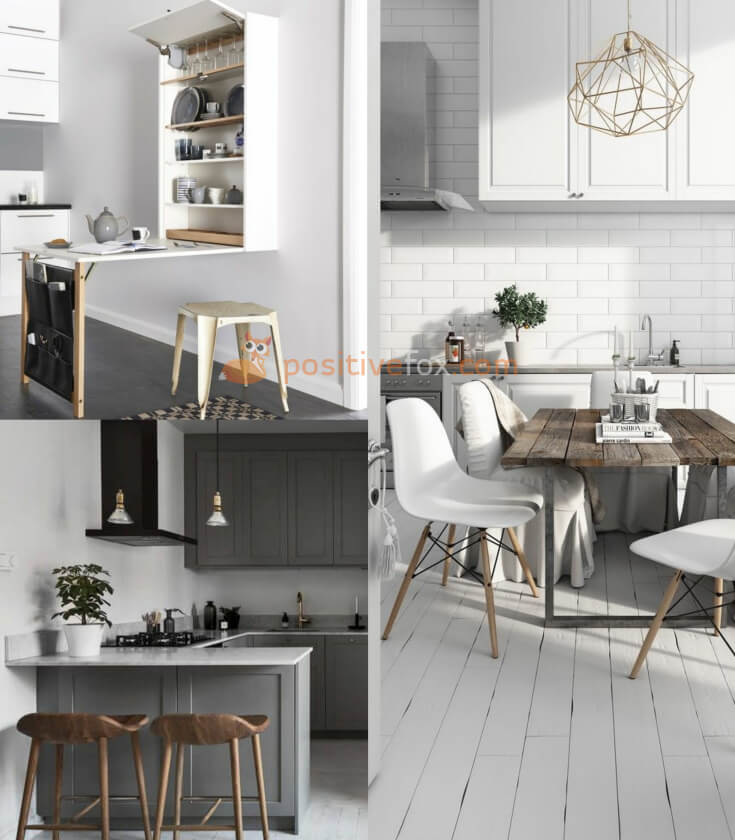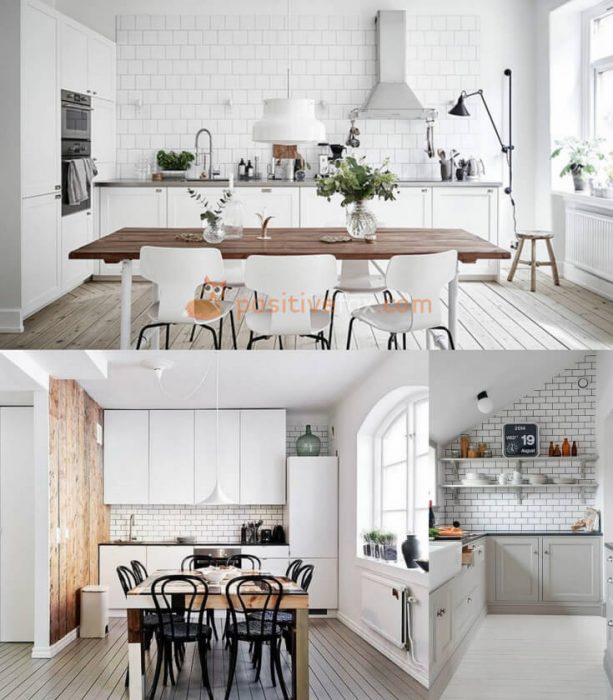 Classic Interior Design for Small Kitchen
Those who closely follow traditions will certainly appreciate a classic style kitchen. However, not all variations of the classic style are suitable for a small kitchen. You should lean towards light colours and avoid unnecessary patterns and overly-intricate finishes.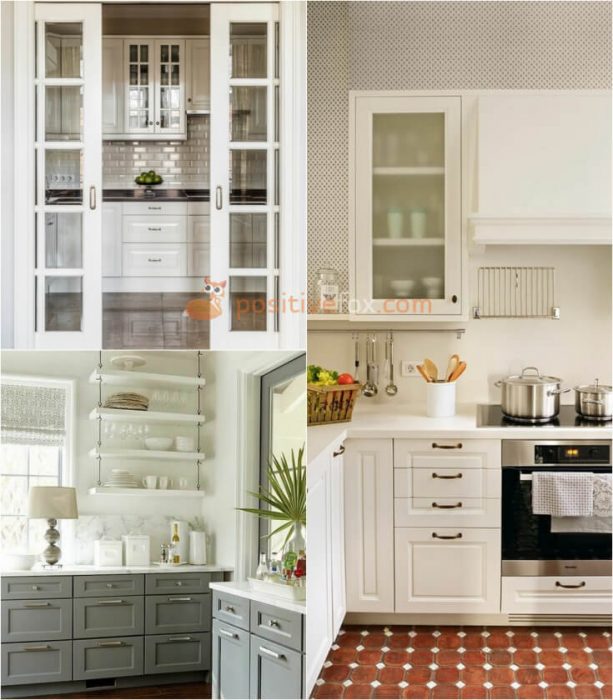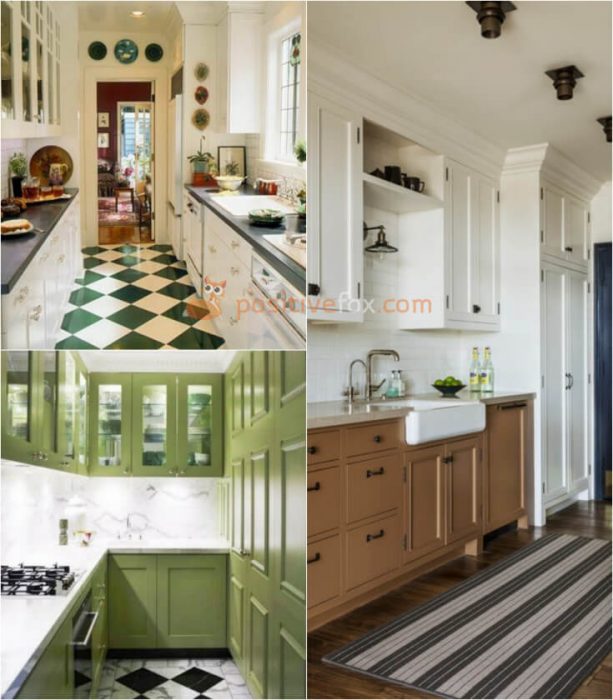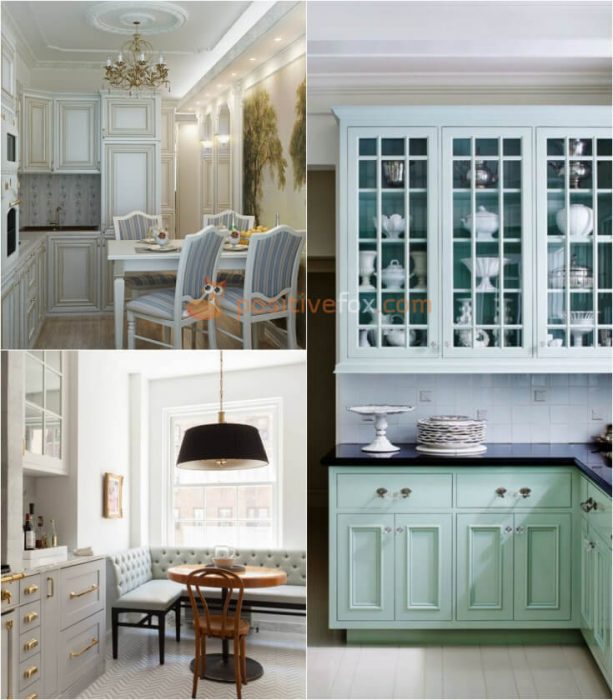 Provence Interior Design for Small Kitchen
It is worth substituting wallpaper with ceramic tiles or brickwork painted white or cream. A key feature of the Provencal kitchen is a wooden shelf with utensils and multi-colored spice jars.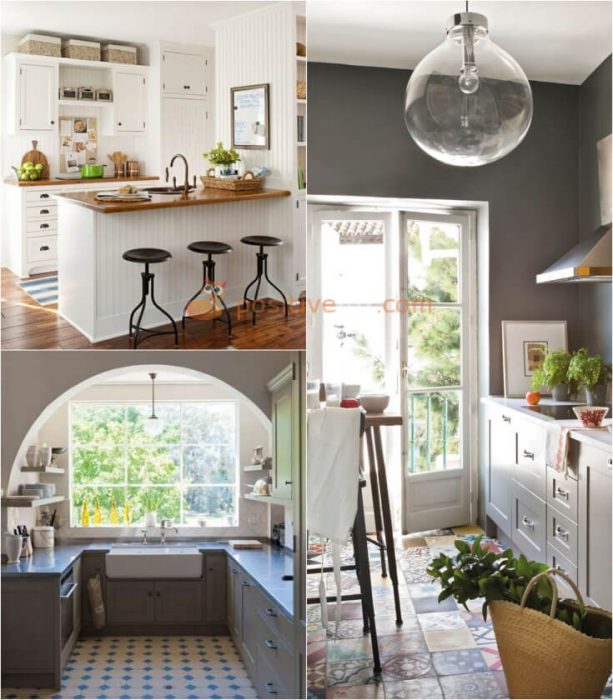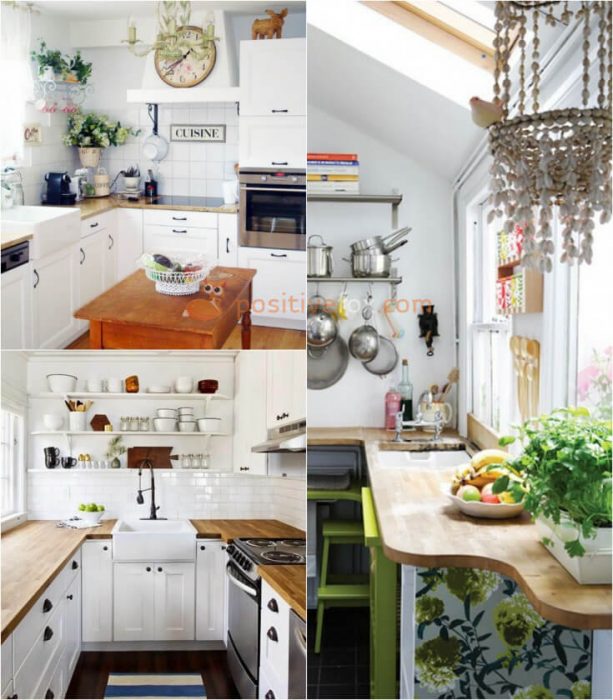 Country Interior Design for Small Kitchen
If you have a small country style kitchen, it does not mean that there will be no room left for your imagination. There is a simple rule that you should follow, and that is to avoid excess furniture and decor elements in the interior.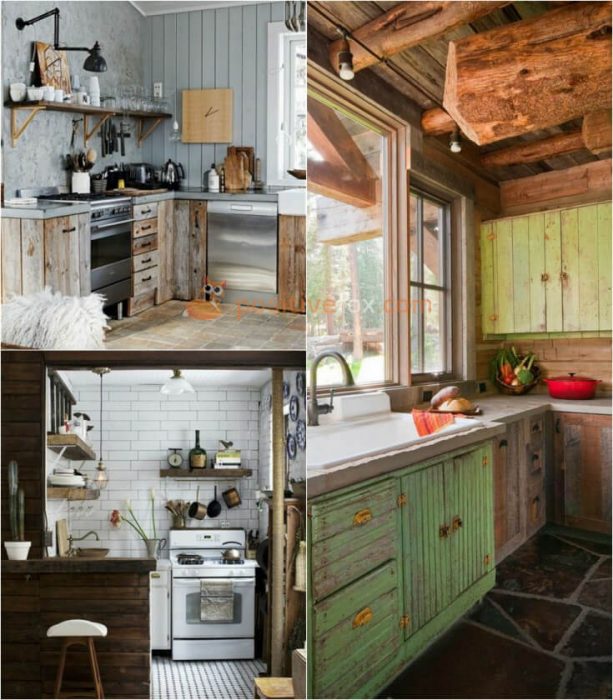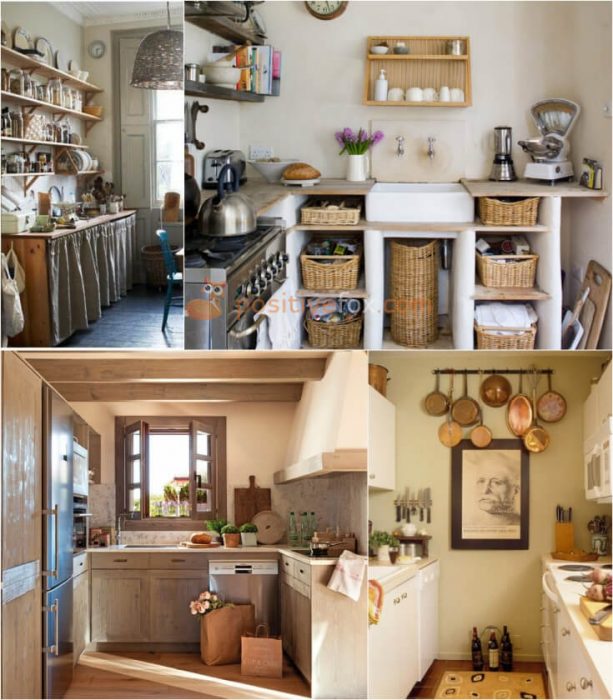 Loft Interior Design for Small Kitchen
A small corner in a loft style living room, with ultramodern kitchen appliances is what you need for the perfect loft style kitchen. The standard method of dividing these two zones is a bar counter with hanging glasses and shelves. A massive extractor hood will look great, as will a lot of glass.