The kitchen is the one of the key rooms in a house or apartment. It is not only a place for cooking, but it is also where the family gathers, where intimate conversations are had and celebrations are held. It is a place that is always brimming with life.
Therefore, the kitchen interior design must be functional, cosy and beautiful. It is very important to organize the space properly even if the kitchen is small.
Before laying out a design plan for any modern kitchen, you have to decide whether your kitchen will be exclusively a place for cooking, or a kitchen-dining room/kitchen-living room combo. After all, your choice of kitchen furniture, style of accessories, and decor will depend on the type of kitchen interior design you decide to go for.
Contents:
1. Scandinavian Kitchen
2. Country Kitchen
3. Provence Kitchen
4. Loft Kitchen
5. Classic Kitchen
6. High Tech Kitchen
Scandinavian Kitchen Interior Design
The main features of a Scandinavian style kitchen are functionality and practicality. Scandinavian kitchen design at its finest is recognisable by the predominance of white, with bright contrast details, simple classic forms, lots of light, free space and and some vibrant decorative items used sparingly. Scandinavian kitchen tiles, countertops and other elements tend to be made from natural materials.
Small Spaces Scandinavian Kitchen
Scandinavian design is a perfect choice for a small kitchen. White reflects all colors of the spectrum so it makes spaces appear larger. It creates an airy appearance which is clean and calming and that is why it is used often used in Nordic interior design.
Country Kitchen Interior Design
The main feature of a country style kitchen is its simplicity. A farmhouse kitchen should look like every component came together effortlessly. In addition, country style kitchens tend to be multifaceted and international. They combine elements of the the rural lives of people from all around the world.
Country Interior Design for Small Kitchen
If you have a small country style kitchen, it does not necessarily mean that there will be no room left for your imagination. Follow the simple rule that you should avoid excess furniture and decor elements in your design.
Provence Kitchen Interior Design
A Provence style kitchen provides a great sense of creativity while looking amazing. The kitchen must be well-lit either by a large window or from multiple sources of artificial lighting. Light pastel walls, aged, scuffed and slightly tarnished furniture, an abundant use of forged metal elements, accessories made of copper and bronze, flowers in clay or porcelain pots, open shelves with plates, wicker decor elements, natural textiles – all of this will complement your Provence style kitchen decor.
Provence Interior Design for Small Kitchen
Provence style kitchen design begins with the decoration of the walls. It is worth substituting wallpaper with ceramic tiles or brickwork painted white or cream. A key feature of the Provencal kitchen is a wooden shelf with utensils and multi-colored spice jars.
Loft Kitchen Interior Design
Generally, very little space is allocated for the kitchen in loft interior design. As a general rule, the kitchen is located in one of the corners of the living room. The interior of the kitchen combines a large amount of glass and chrome.
The central area in the kitchen contains modern equipment: a refrigerator, a dishwasher, an oven and a coffee machine.
Loft Interior Design. Ideas for Small Kitchen
A small corner in a loft style living room, with ultramodern kitchen appliances is what you need for the perfect loft style kitchen. The standard method of dividing these two zones is a bar counter with hanging glasses and shelves. A massive extractor hood will look great, as will a lot of glass.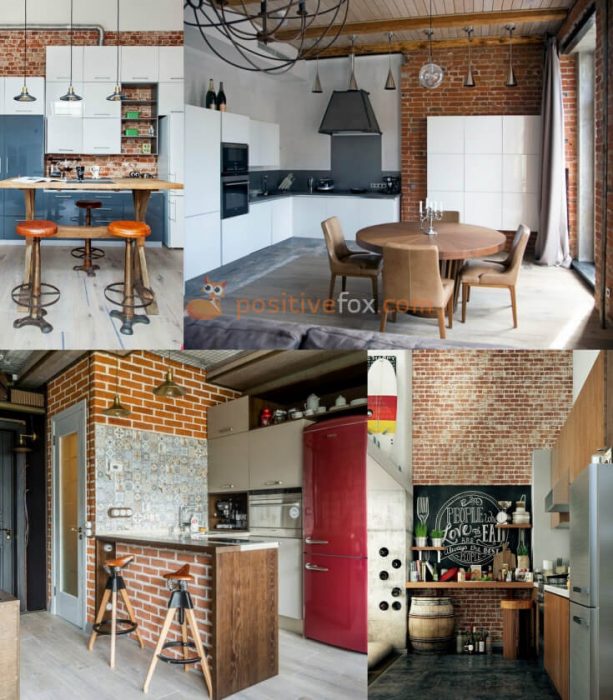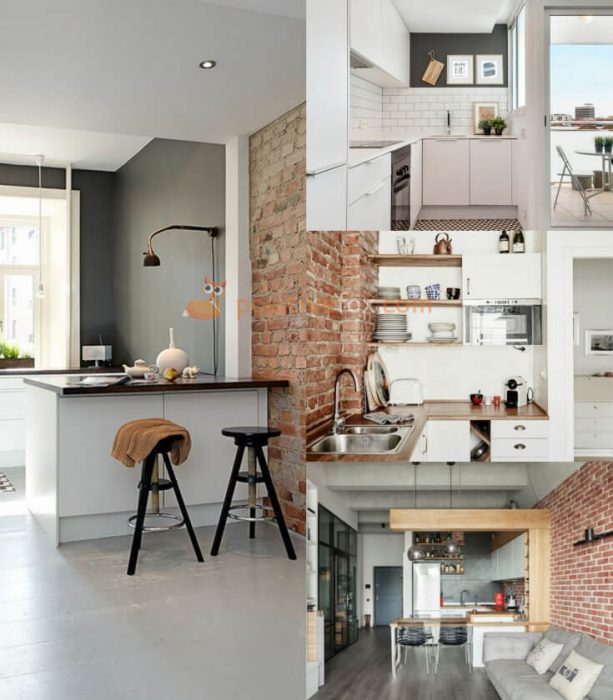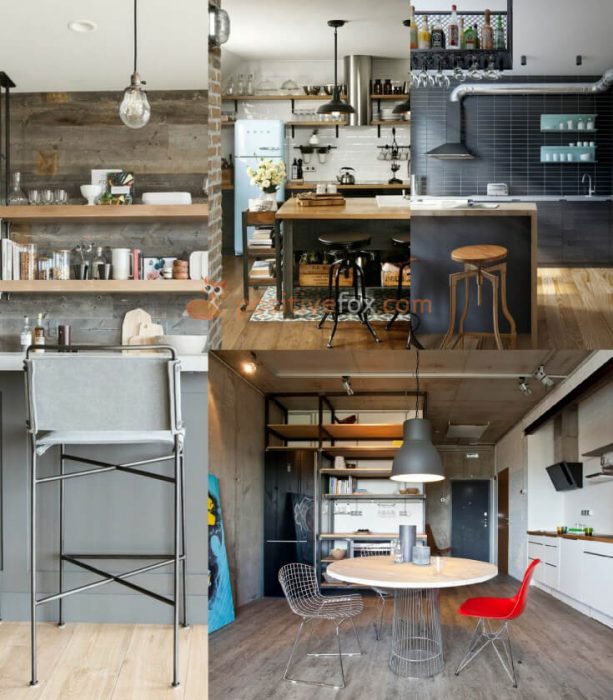 Classic Kitchen Interior Design
A Classic style kitchen never goes out of fashion. It is cosy, functional and adapts well to any stylistic changes. A classic kitchen is original and may be costly to install, but above all, it must be functional. One of the highlights may be a wine rack, built into the back of a large table or island in the center of the room.
Classic Interior Design for Small Kitchen
Classical style interior design in its pure form is used to decorate large and spacious kitchens. But it is also possible to expand a smaller kitchen by merging it with a living room, a hallway or a balcony. Other techniques can also be implemented. For example, place a large mirror on one wall with a white painted background, to help visually increase the space.
High Tech Kitchen Interior Design
Any kitchen which incorporates high tech interior design elements truly is "a kitchen from the future". All large household appliances should be state of the art, using the most up to date technology. The layout should be as simplistic as possible. Excess chrome and gloss should be kept to a minimum, to avoid creating a kitchen which resembles an office space.
High Tech Small Kitchen Interior Design
A bar counter would be ideal in a small high tech kitchen as well as a compact glass table or an extendable one, which can adjust depending on whether it needs to accommodate 6 people or 2. Chairs can be made of bent plywood, wood, metal, plastic or transparent polycarbonate. The main criteria for choosing furniture for a small high tech kitchen are minimal design, multi-functionality and elegance.
High tech interior design can help visually expand a room, by virtue of bold, solid colors and the lack of any unused furniture.