The living room is generally at the center of an apartment or a house. Not only does this room accommodate guests, but family members as well. As such, it is wise to choose the largest and most spacious room.
The living room interior design should be functional and it should combine style and comfort with luxury and practicality. The amenities of the living room should match your preferences, but guests should feel comfortable and relaxed in it as well.
Contents:
1. Scandinavian Living Room
2. Country Living Room
3. Provence Living Room
4. Loft Living Room
5. Classic Living Room
6. High Tech Living Room
Scandinavian Living Room Interior Design
A Scandinavian living room features a snow-white ceiling and walls, parquet or plank flooring, upholstered furniture, small coffee tables and indoor plants. Try to incorporate Scandinavian interior design features like sofa cushions, plaid blankets and torchiere floor lamps.
Small Spaces Scandinavian Living Room
Scandinavian interior design will make even the smallest living room look quite spacious. It is important to follow one simple rule. The key feature of a Scandinavian living room must be minimalism – from the furniture to the color schemes.
Country Living Room Interior Design
A typical country style living room should incorporate natural materials. A wide variety of textiles provide a peaceful atmosphere and a sense of antiquity. If there is space to install a fireplace or wood-burning stove, the opportunity shouldn't be passed up. You cannot beat the crackle of a real fire, to create a perfect country style living room.
Country Interior Design for Small Living Room
When you are creating a small country style living room, remember that it should not be filled with modern technology. Instead, make the fireplace the focal point, as it embodies comfort and warmth.
Provence Living Room Interior Design
To transform a standard living room into a stylish Provencal room, it is necessary to fill it with light, pastel hues, slightly aged furniture, accessories made from natural materials, flowers and trinkets made of stone or porcelain.
Provence Interior Design for Small Living Room
A Provence style living room is designed to be cozy and comfortable, but also functional. A small living room is often combined with a kitchen that is later separated into designated areas/zones.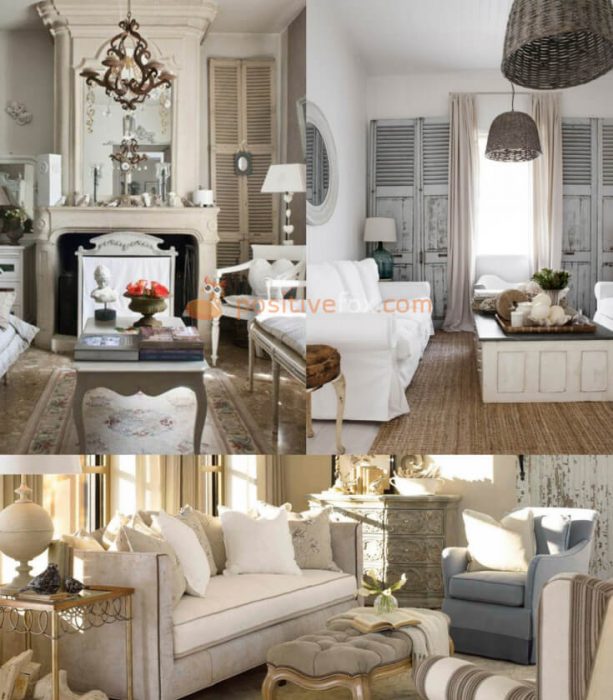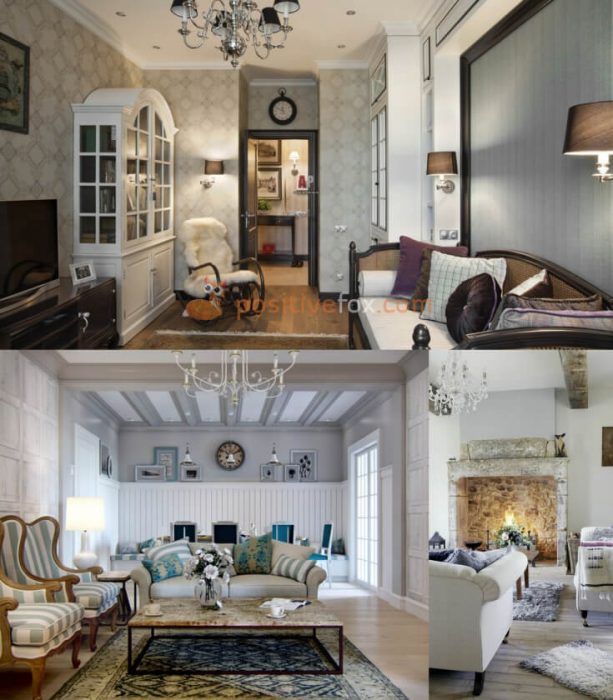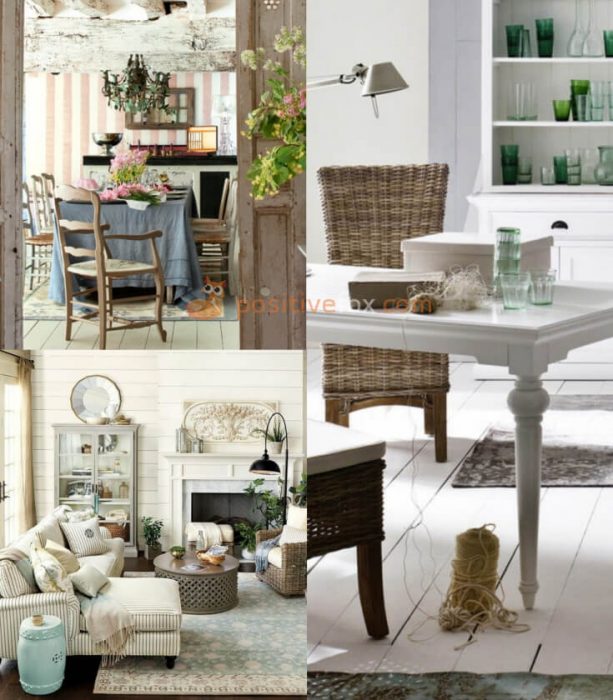 Loft Living Room Interior Design
The main features of a loft style living room are large windows, a wooden floor, rough walls and a massive stylish sofa made from high-quality leather or thick textiles. The space near the sofa can be filled with chairs, ottomans and a coffee table.
Loft Interior Design. Ideas for Small Living Room
To design a one or two-room apartment in loft style keep these guidelines in mind: the color scheme should be light, the best colors to choose from are – brown, grey and white. The presence of multi-purpose furniture is also important. The furniture you choose can also act as a zone delimiter.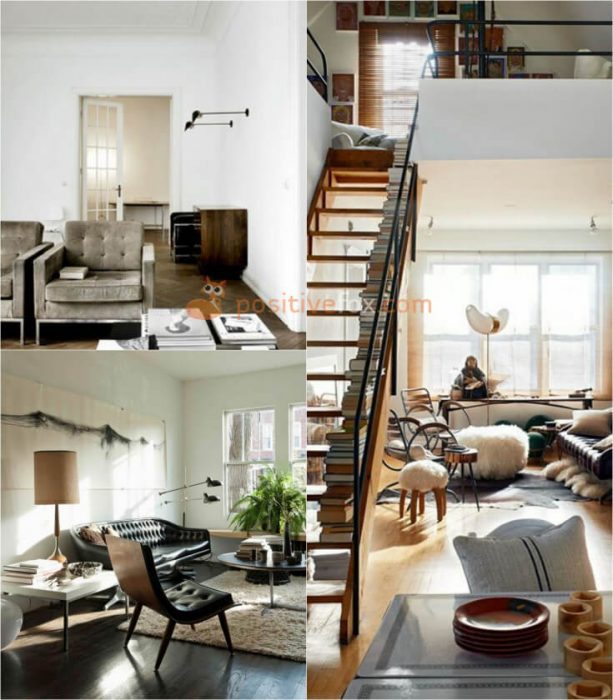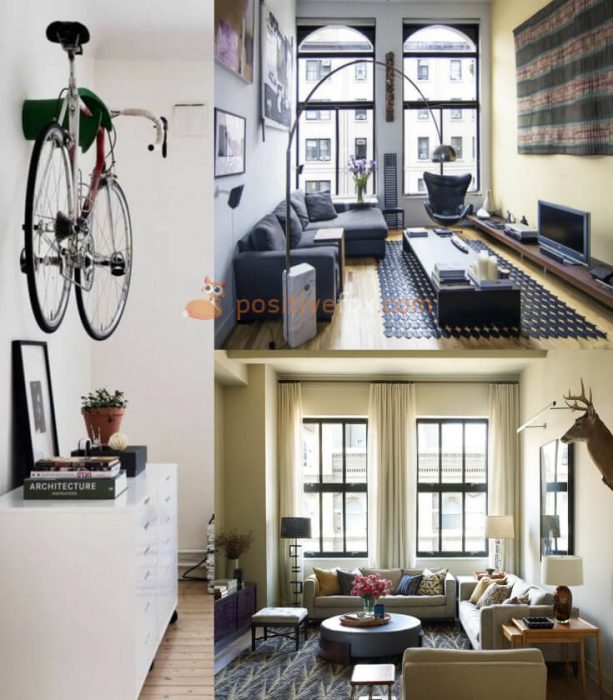 Classic Living Room Interior Design
A classic style living room is a testament to the exquisite elegance and bourgeois inclinations of the home owners. A classic interior, similar to a work of art, incorporates expensive materials and exclusive furniture. Luxury mirrors in expensive textured frames, a designer coffee table made from natural wood and soft armchairs are the hallmarks of a classic living room.
Classic Interior Design for Small Living Room
When designing a small classic style living room, special attention should be paid to the functionality of the room to achieve the feeling of free space, volume and expressiveness of all surfaces. It is not necessary to over-decorate the ceilings with plaster, but coving along the edge of the ceiling is a welcome feature.
Decorate the living room with unique ornaments, luxurious textiles with fringes, brushes or braided threads and expensive dishes made of fine porcelain. They will make the interior more noble, meticulous and will give the illusion of more space.
High Tech Living Room Interior Design
A high tech style living room is easy to distinguish from a living room decorated in any other style. Take for example the unusual decision of pairing a violet ceiling with flooring in a contrasting violet color. Cutting-edge technology, an abundance of glass and metal partitions, straight lines, clear geometric shapes, suspended ceilings, various types of lighting and highlights are all characteristic of high tech interior design.
High Tech Interior Design for Small Living Room
The interior of a high tech living room is characterized by its free space. Do not be afraid to use this style in small apartments. The abundance of glass objects and light colors can make even the smallest living room look more spacious.