Standard kitchen wall decor generally consists of ceramic tiles that cover the walls in the work area and paint that covers the remaining areas. But there are many other modern materials and creative approaches for decorating kitchen walls.
By combining different materials and decorative objects, your kitchen will look creative and stylish. This technique can also be used to visually split the kitchen space into separate zones.
Contents:
1. Kitchen Wall Tiles
2. Kitchen Wallpaper
3. Kitchen Brick Wall
4. Wood and Decorative Stone
5. Plate Wall Decor
6. Cutting Board Decor
7. Wall Clocks
8. Faux Animal Heads and Lettering
9. Kitchen Mirrors
10. Pictures, Posters and Photos
11. Decor Paintings and Vinyl Stickers
12. Shelf Decor
Kitchen wall tiles
Kitchen wall tiles are amongst the most popular and practical wall finishes. They are incredibly durable, waterproof and easy to clean. In addition, there is a huge variety of ceramic tiles to choose from. This allows you to match your wall perfectly to the interior design of the kitchen. Owing to the variety of shapes, sizes and textures of the tiles, it is easy to combine them with other materials and other tiles of varying sizes and lengths. This allows you to create unique patterns for your kitchen.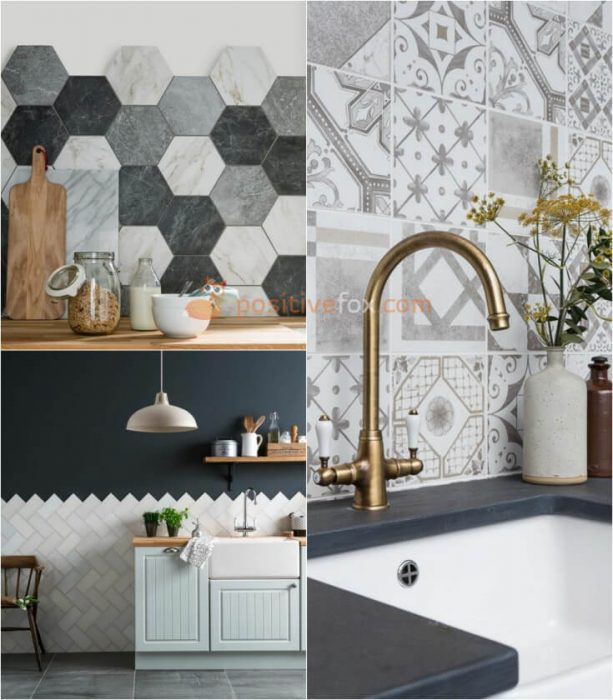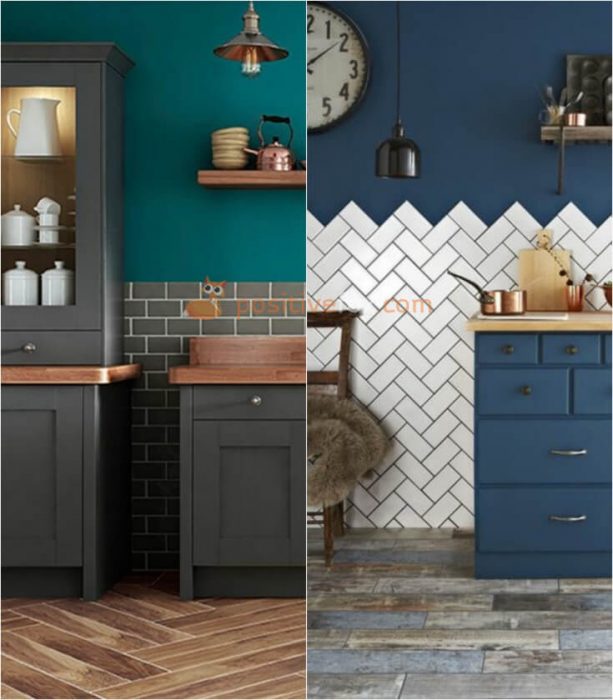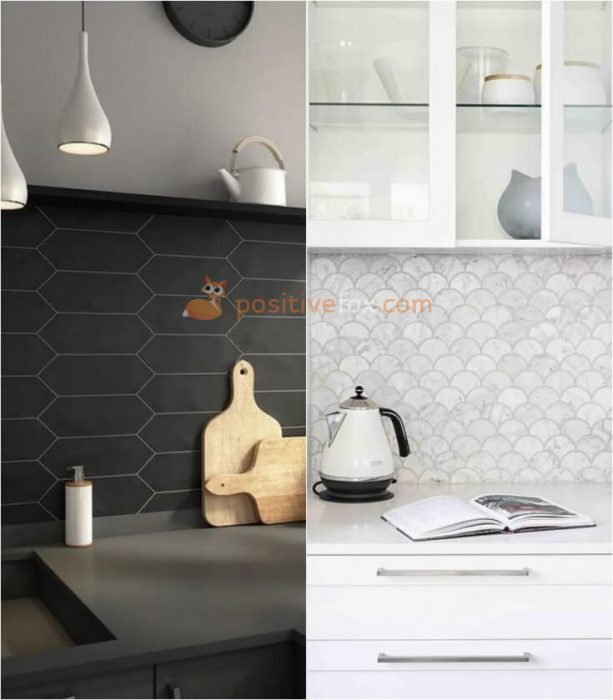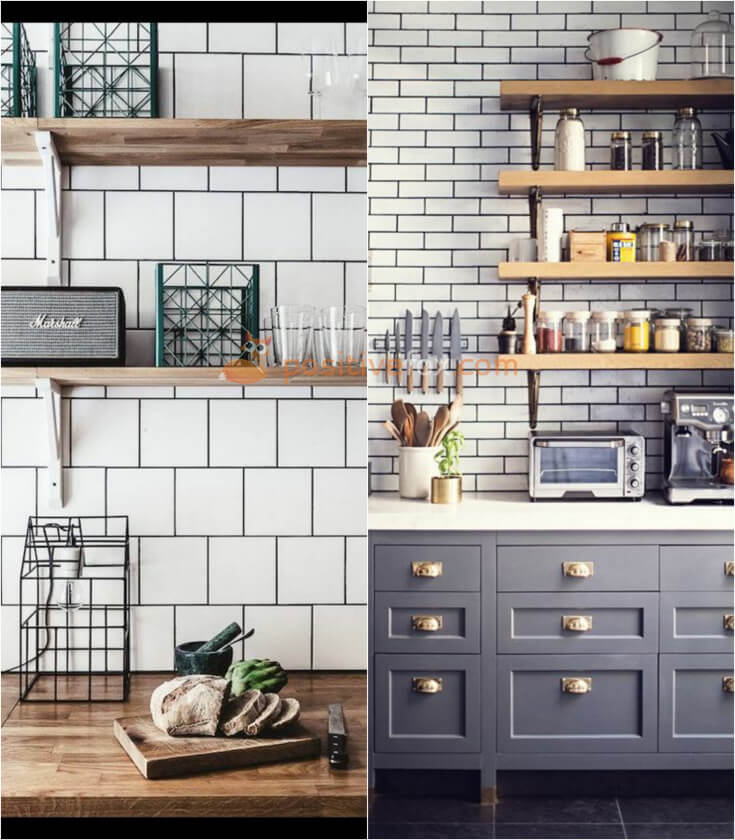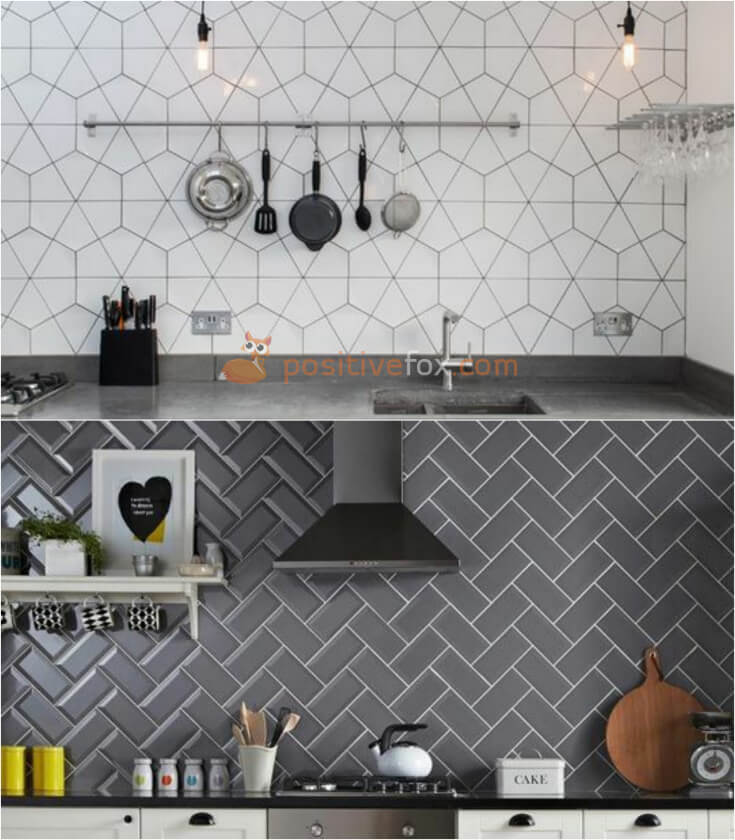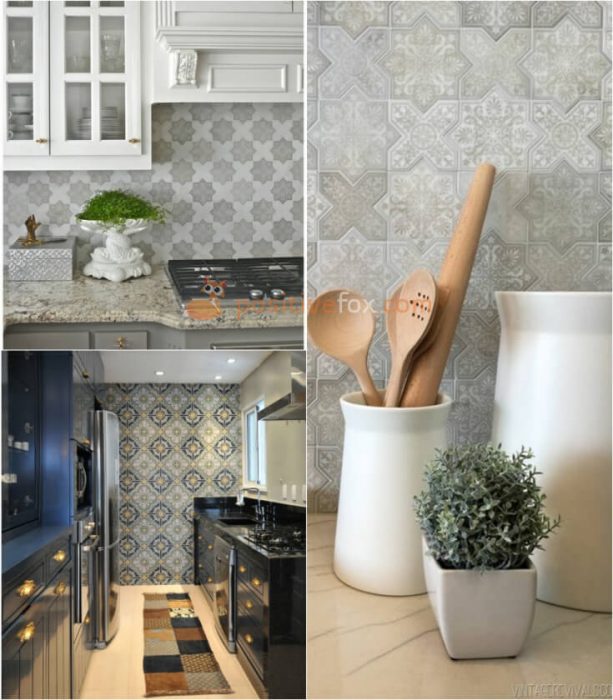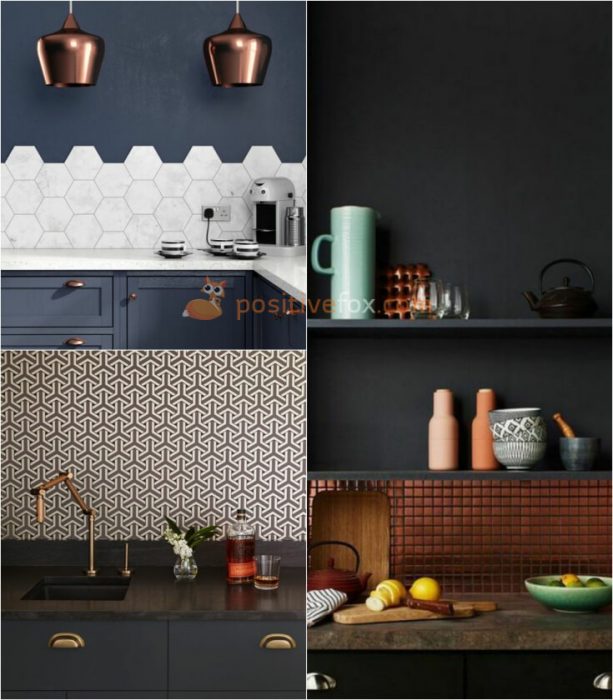 Wallpaper for kitchen wall
Stylish, high-quality wallpaper can transform any kitchen. However, it is important to choose a washable and water-repellant wallpaper. The most suitable option for the interior is vinyl wallpaper, which has high tensile strength, durability and can cover uneven walls. Additionally, there are wallpapers for kitchen walls that imitate various other materials like plaster, stone and leather. If you get tired of the wallpaper, you don't even have to remove it if you want to paint your walls a different color. Many wallpapers will allow you to paint over them without worrying about paint adhesion.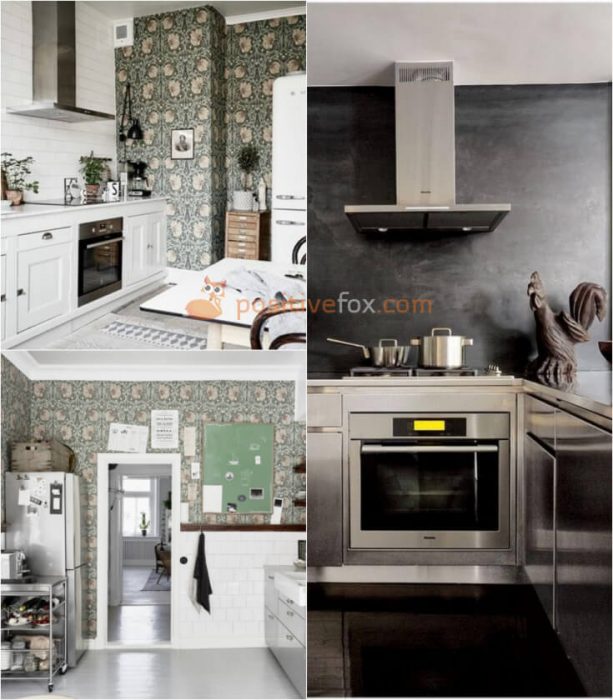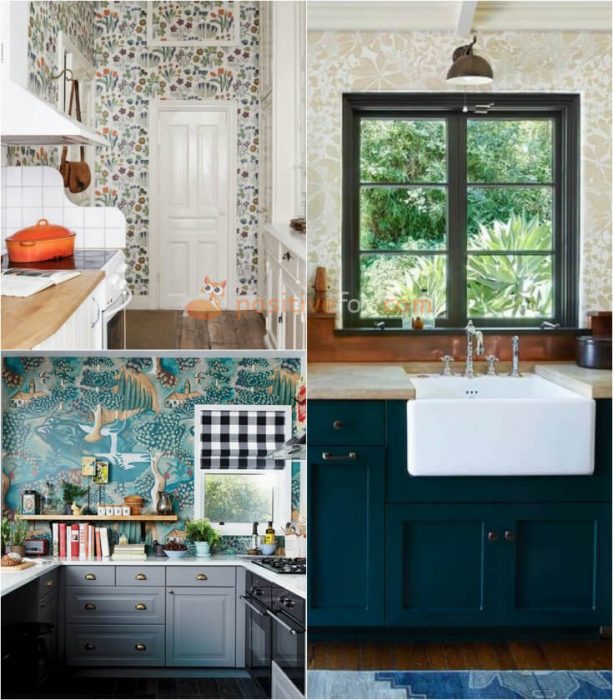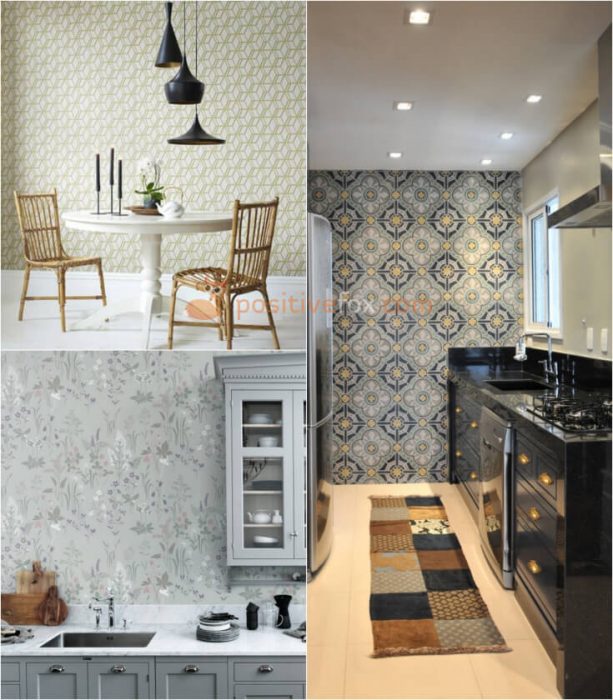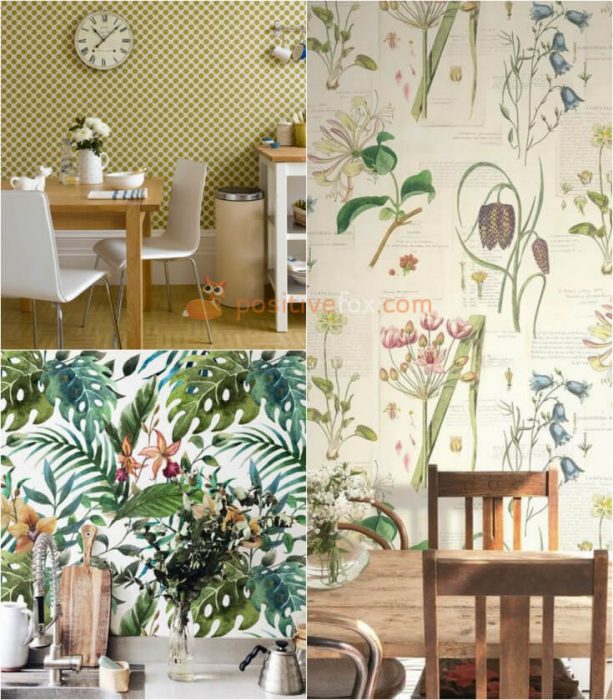 Kitchen brick wall
Brick is another interesting option for decorating a kitchen. It can be used for all the walls, which will create a design that is similar to the loft interior design style. Selective brick inserts may also liven a neutral kitchen interior. You can also use bricks similar to the ones the house was made from, without resorting to plaster.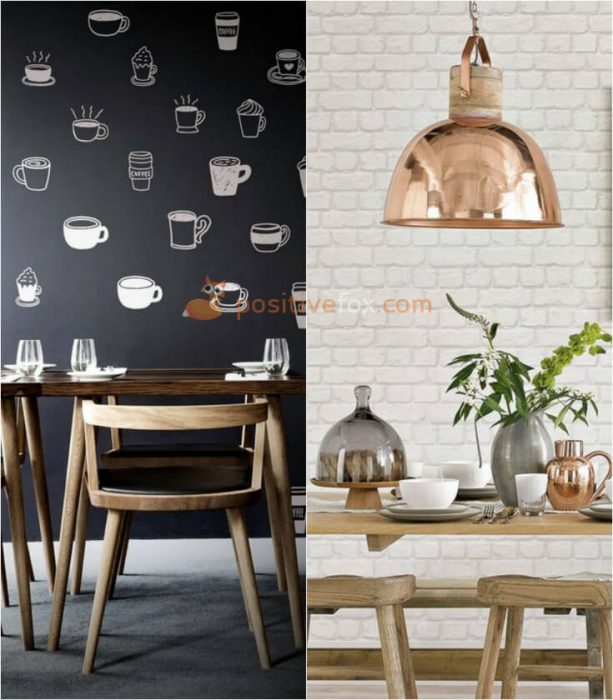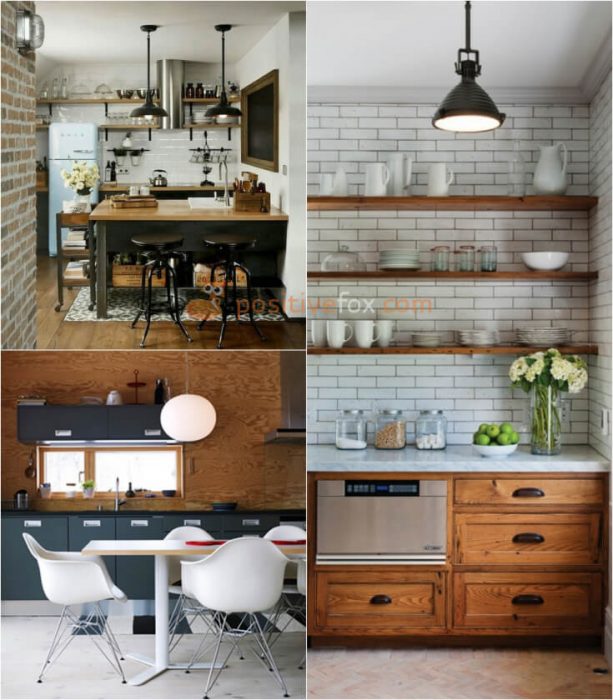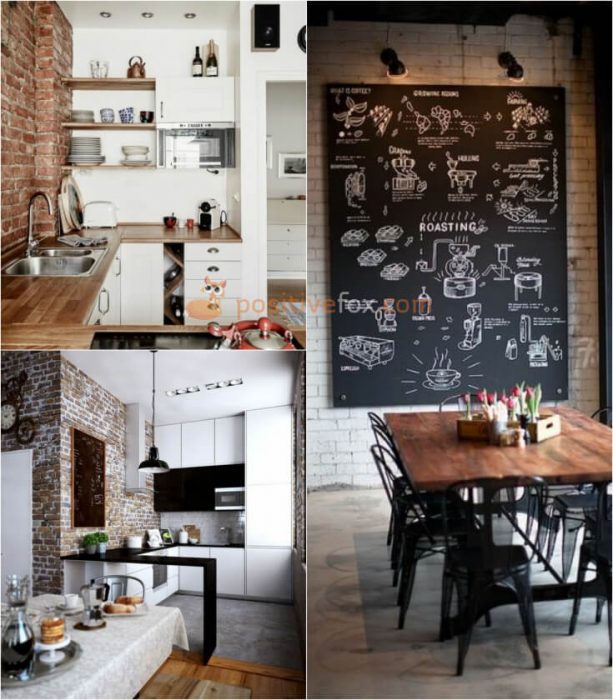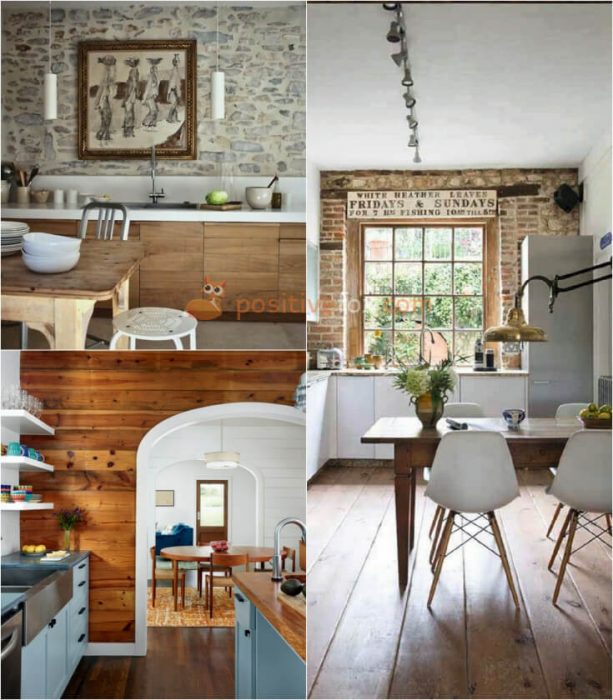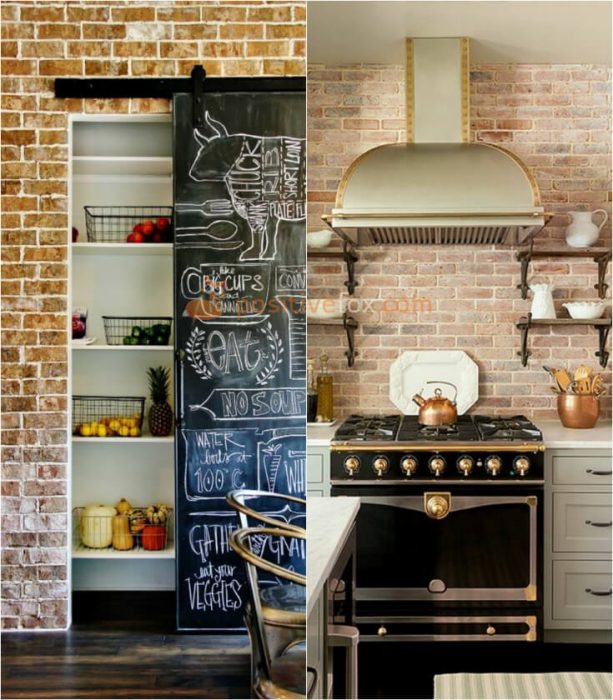 Wood and decorative stone
You often see kitchen walls finished with wood and decorative stone kitchen wall tiles. The natural patterns and calm brown tones can give the room a special, cosy atmosphere. However, it's important to keep in mind that those materials will make small rooms feel even more cramped. It is better to use lining panels and stone moderately in select areas of the kitchen.
Plate wall decor – Kitchen wall decor
If your kitchen is based on a rustic or classical style, then you can decorate one of the walls with plates. it is not necessary to buy decorative plates as ordinary porcelain or ceramic plates will work just fine.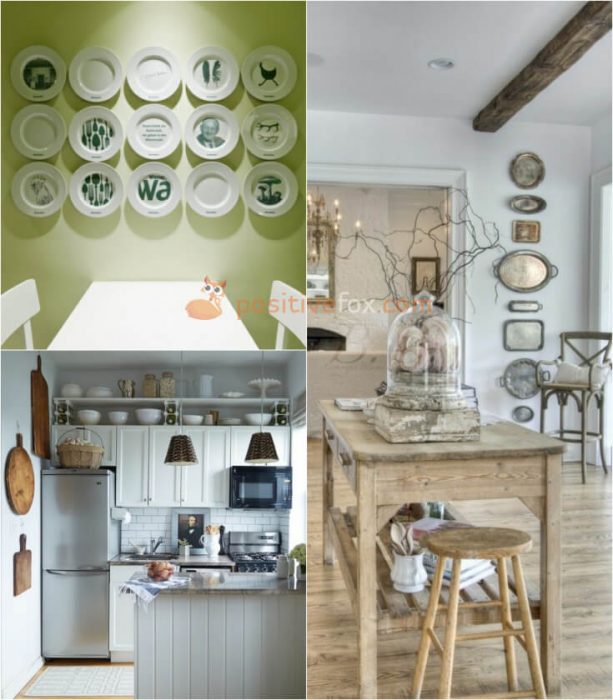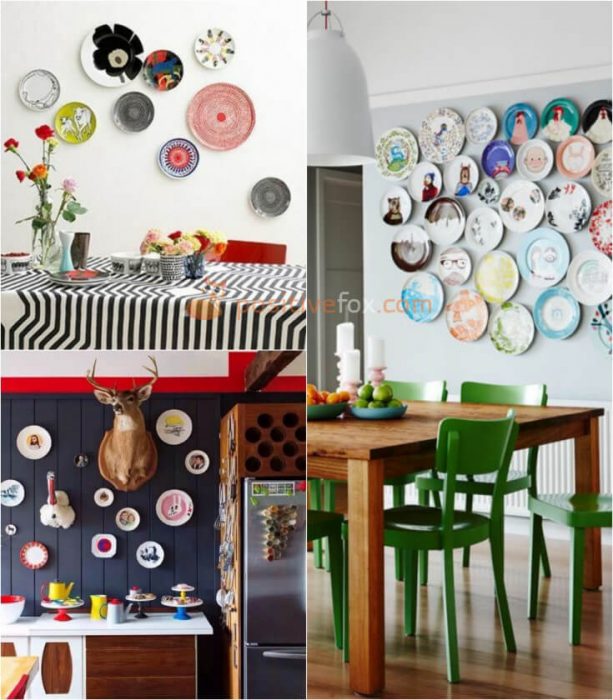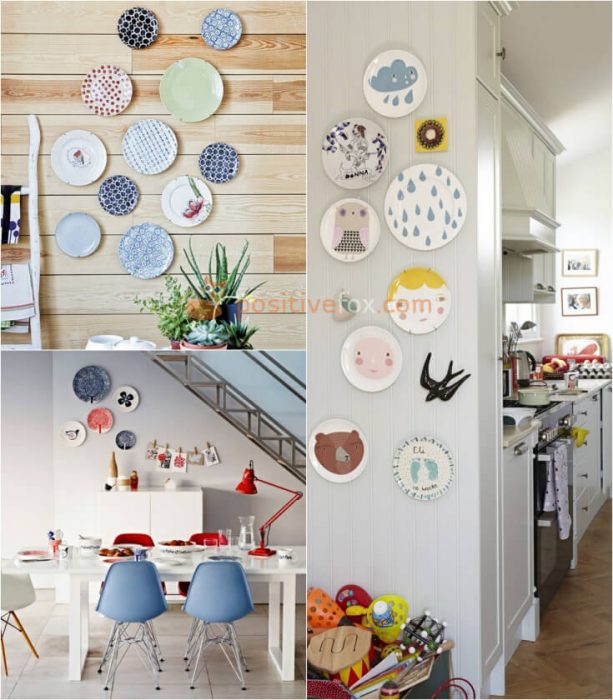 Kitchen cutting board decor
Even the most ordinary things that we would rarely notice in a kitchen can be decorative elements. For example, old wooden cutting boards, rolling pins, metal trays and vintage dishes can be used as kitchen wall decor.
Kitchen wall clocks – kitchen wall decor
A fashionable decorative element that never goes out of style is a kitchen wall clock. In a cosy kitchen, the time should be displayed on an elegant wall clock instead of a tiny, dimly-lit microwave display. Clocks especially suit the interiors of classical kitchens: Art Deco, Neoclassicism, Empire or Modern. They can also be used to good effect in rustic styles: country, chic, rustic, provencal.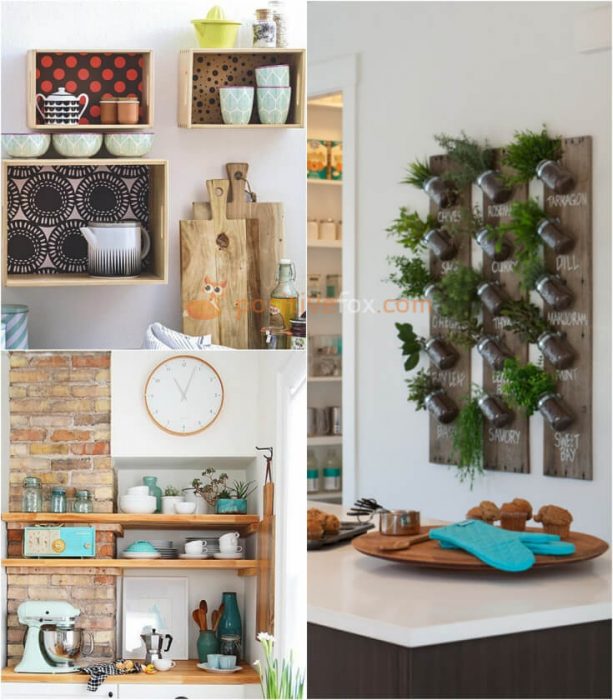 Faux animal heads and wall lettering
Recently, faux heads and wall lettering have become fashionable for kitchen wall decor. Both of these decorative elements can be ordered online. The head ornaments can also be made by hand from plywood, papier mache, gypsum, cardboard and even yarn.
Mirrors in kitchen
One of the most unconventional, yet original ways of decorating the kitchen walls would be with glossy surfaces and mirrors. These can visually expand the interior while adding light and beauty.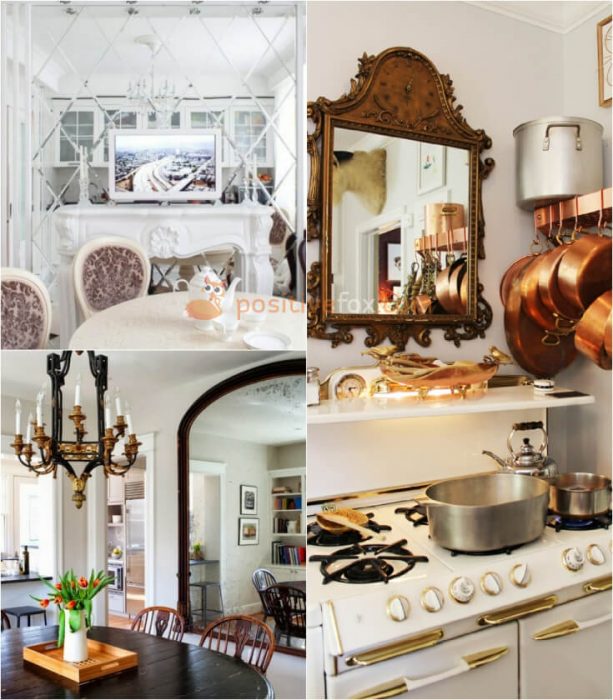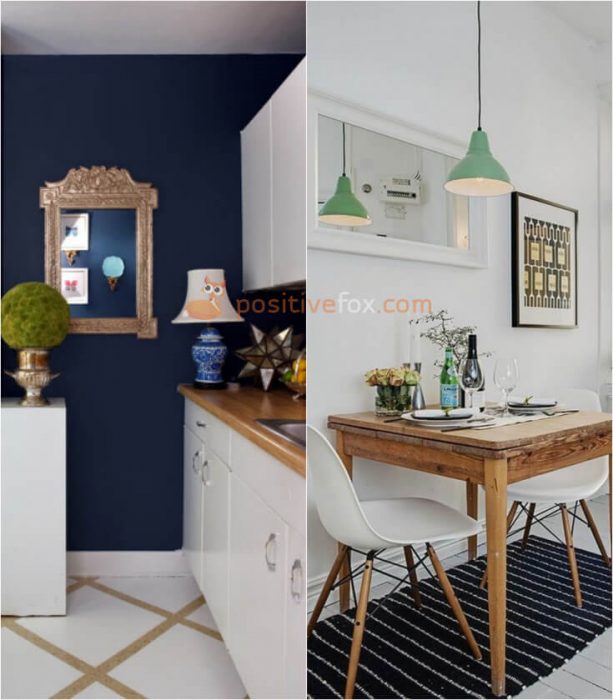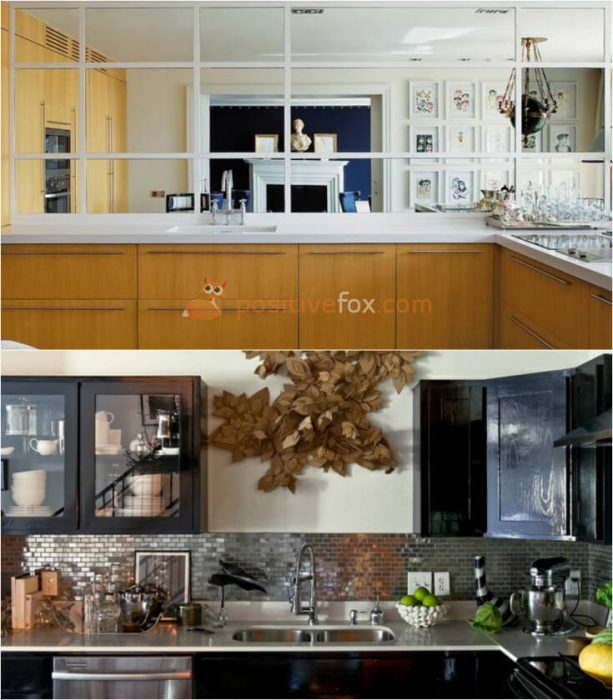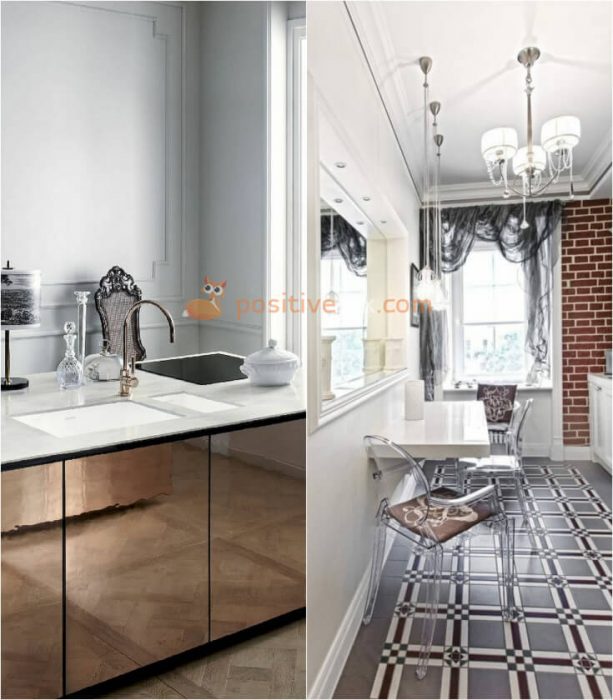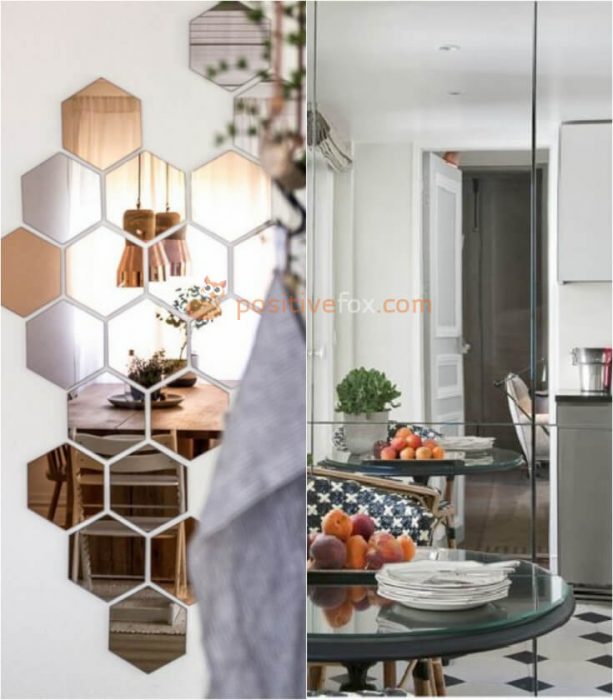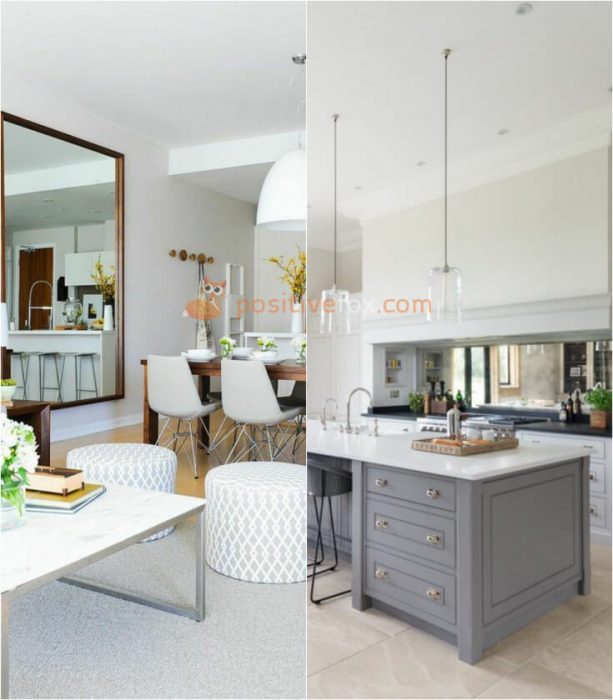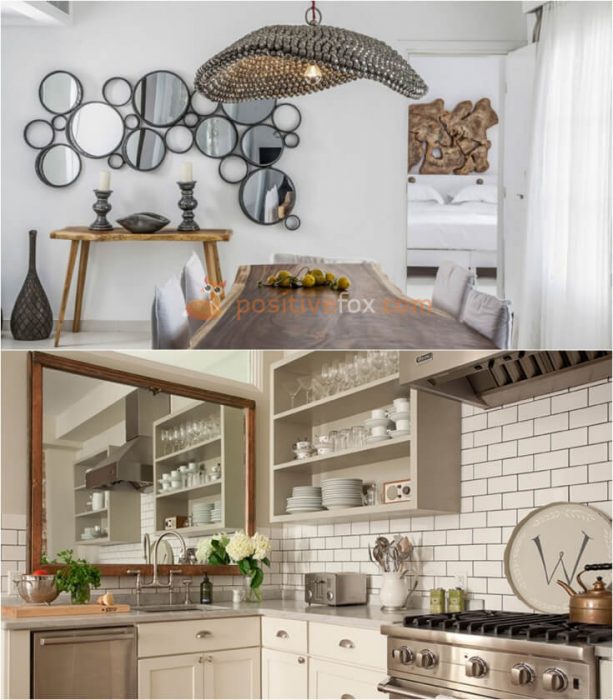 Kitchen decor – pictures, posters, photos and more
The more traditional kitchen wall decor options are paintings, photographs, posters, herbarium sheets and maps. Keep in mind that if the kitchen is small, then it is not necessary to arrange an "art gallery" on the walls. It is often better to hang one, two or three pieces that have real meaning for you.
Kitchen decor paintings and vinyl stickers
Kitchen walls can also be decorated with ready-made vinyl stickers. They are durable, affordable, do not require much care and can easily be glued on and removed from any surface. With the help of matte or glossy stickers, the kitchen will become bright and cheerful. Another great addition would be a wall painting made by hand or using stencils.
Kitchen shelf decor
A simple way to decorate the kitchen is with the help of wall-mounted shelves made of metal, glass and carved wood. Different arrangements can be placed on the shelves: a collection of masks, china, candlesticks and other items that would otherwise look out of place when hung on a wall.