High Tech Interior design is an ultra-modern style for individuals. This design is perfect for those who enjoy being surrounded by metal, plastic and modern technology. This design style tends to focus on shapes rather than color schemes.
Everything must be smooth and sleek. High-tech interior design is quite unforgiving if mistakes are made in its implementation.
Contents:
1. High Tech Bedroom
2. High Tech Living Room
3. High Tech Kids Room
4. High Tech Bathroom
5. High Tech Kitchen
6. High Tech Decor
High Tech Bedroom Interior Design
High tech interior design in the bedroom brings a touch of rigor and harshness by incorporating technical elements in the design. A high tech interior is a style that is close to minimalism and it often utilizes monochrome color schemes which can be combined with plain and solid colours: red, blue, green, yellow. Drawings and decorative elements are almost non-existent in high tech interior design.
High Tech Living Room Interior Design
A high tech style living room is easy to distinguish from a living room decorated in any other style. Take for example the unusual decision of pairing a violet ceiling with flooring in a contrasting violet color. Cutting-edge technology, an abundance of glass and metal partitions, straight lines, clear geometric shapes, suspended ceilings, various types of lighting and highlights are all characteristic of high tech interior design.
High Tech Kids Rooms Interior Design
A children's room decorated using high tech interior design ideas is a space that will delight any little lovers of futuristic things. Thanks to the characteristic neutral finishes, it is easy to modify the interior of the room, when change is needed.
High Tech Bathroom Interior Design
A high tech style bathroom interior will benefit from space and modernity. The main principle of this style is high functionality with very few accessories or furniture.
High Tech Kitchen Interior Design
Any kitchen which incorporates high-tech interior design elements truly is "a kitchen from the future". All large household appliances should be state of the art, using the most up to date technology. The layout should be as simplistic as possible. Excess chrome and gloss should be kept to a minimum, to avoid creating a kitchen which resembles an office space.
High Tech Interior Design for Small Apartments
It can be beneficial to follow high tech interior design principles when decorating a one-room apartment as this style can give a small space the illusion of being much bigger. You will end up with a small dwelling, that does not feel cramped.
High Tech Interior Design for Small Bedroom Design
High tech design is ideal for small spaces. Clean, cool colors and the lack of extra furniture can help create the illusion of more space in the room.
High Tech Interior Design for a Small Living Room
The interior of a high tech living room is characterized by a freedom of space. Do not be afraid to use this style in small apartments. The abundance of glass objects and light colors can make even the smallest living room look more spacious.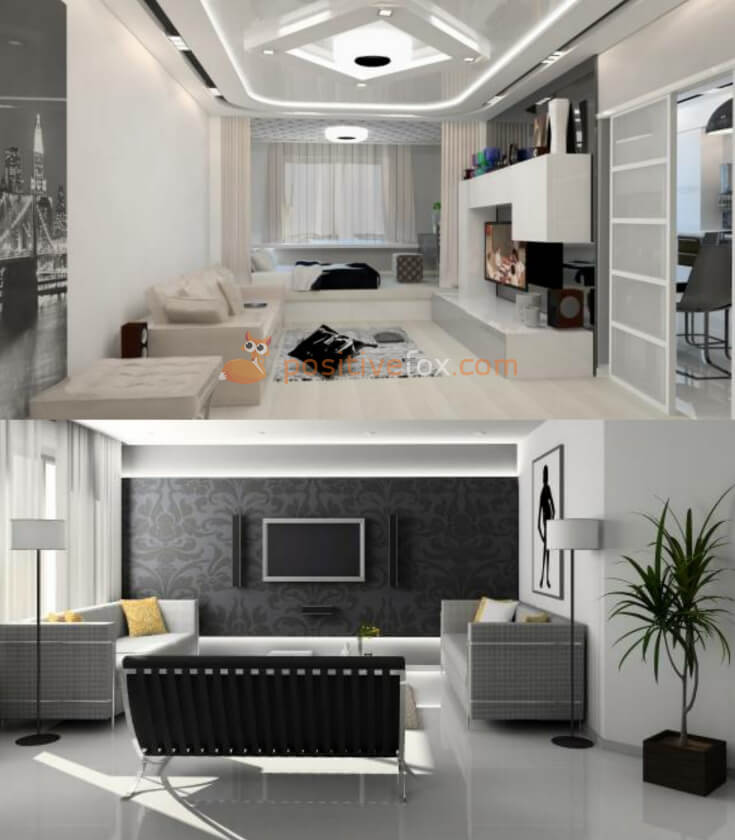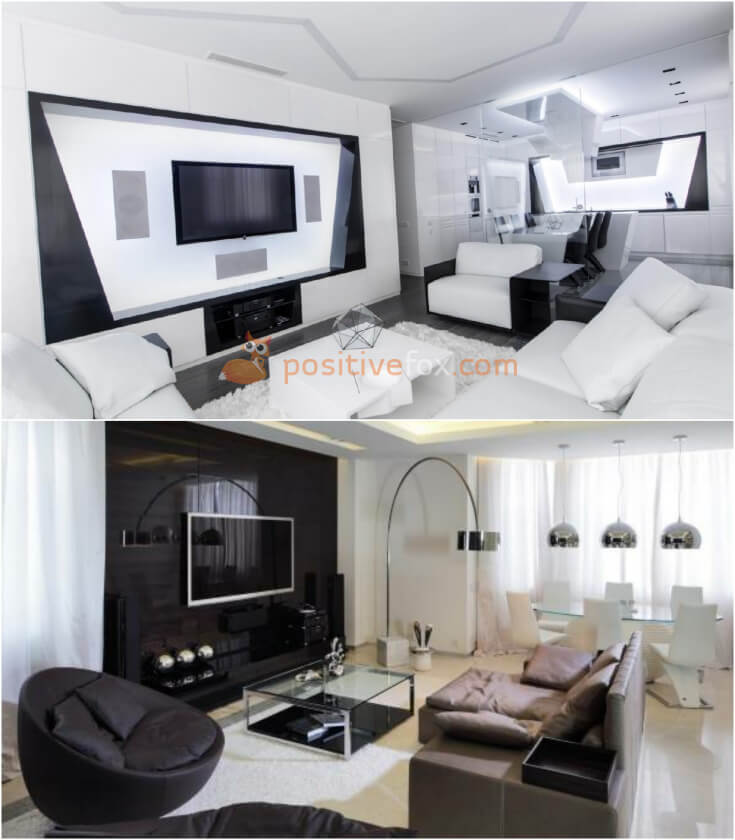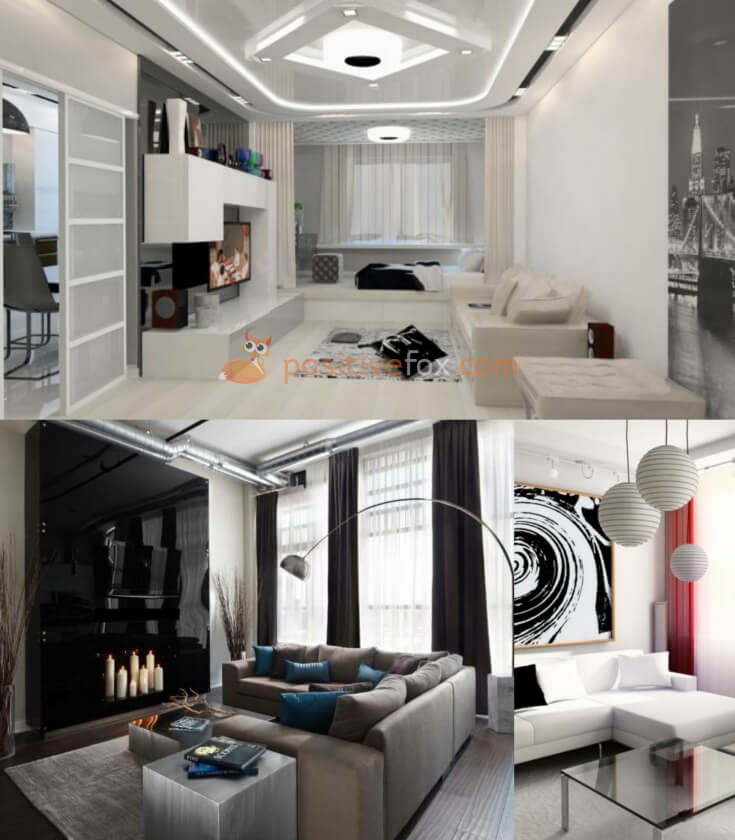 High Tech Interior Design for a Small Kids Rooms
The high tech style is a very practical design choice not only for spacious rooms but also for smaller ones. High tech interior design involves combining basic furniture with light color schemes.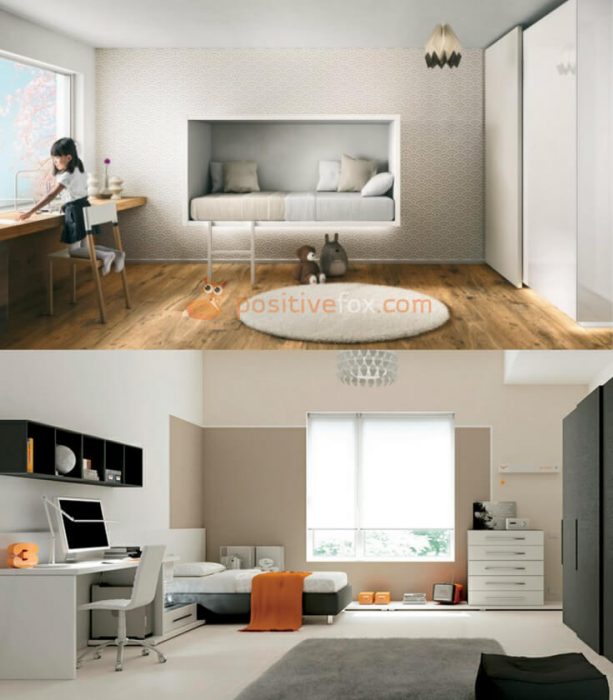 High Tech Interior Design for a Small Bathroom
A High-Tech Style bathroom may not incorporate comfort and romanticism in the way that the Provence, Country or Art Nouveau styles do. But at the same time, it will contain all the functional components that are necessary in a bathroom.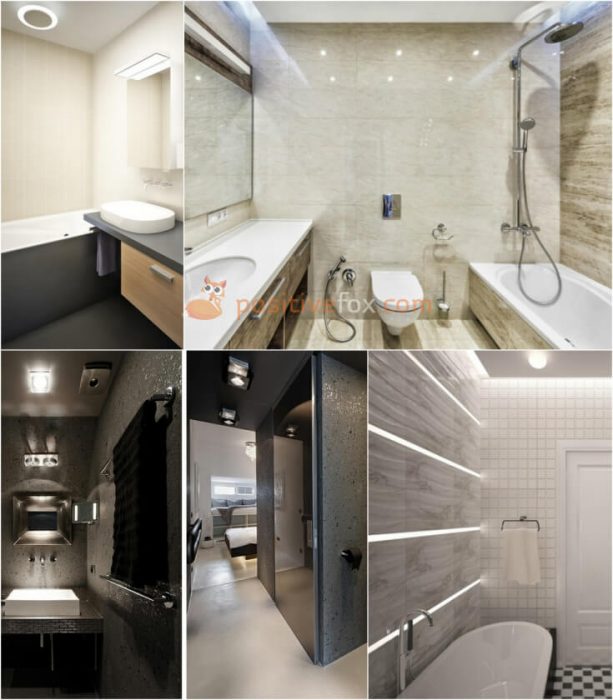 High Tech Interior Design for Small Kitchen
A bar counter would be ideal in a small high tech kitchen as well as a compact glass table or an extendable one, which can adjust depending on whether it needs to accommodate 6 people or 2. Chairs can be made of bent plywood, wood, metal, plastic or transparent polycarbonate. The main criteria for choosing furniture for a small high tech kitchen are minimal design, multi-functionality and elegance.
High tech interior design can help visually expand a room, by virtue of bold, solid colors and the lack of any superfluous furniture.
High Tech Decor Accessories
High tech interior design does not usually require additional decorative elements, because a large amount of light tends to be refracted by the chrome and glossy surfaces and reflected in mirrors. However, if you are determined to add a sense of individuality to the interior, it is imperative that you use the right decorative elements.
Walls can be decorated with large photograph portraits in metal frames. Black and white photos will look exceptional. Interesting metal figurines as well as decorative objects made of glass will also match the design.